Publications

Explore Our Resource Library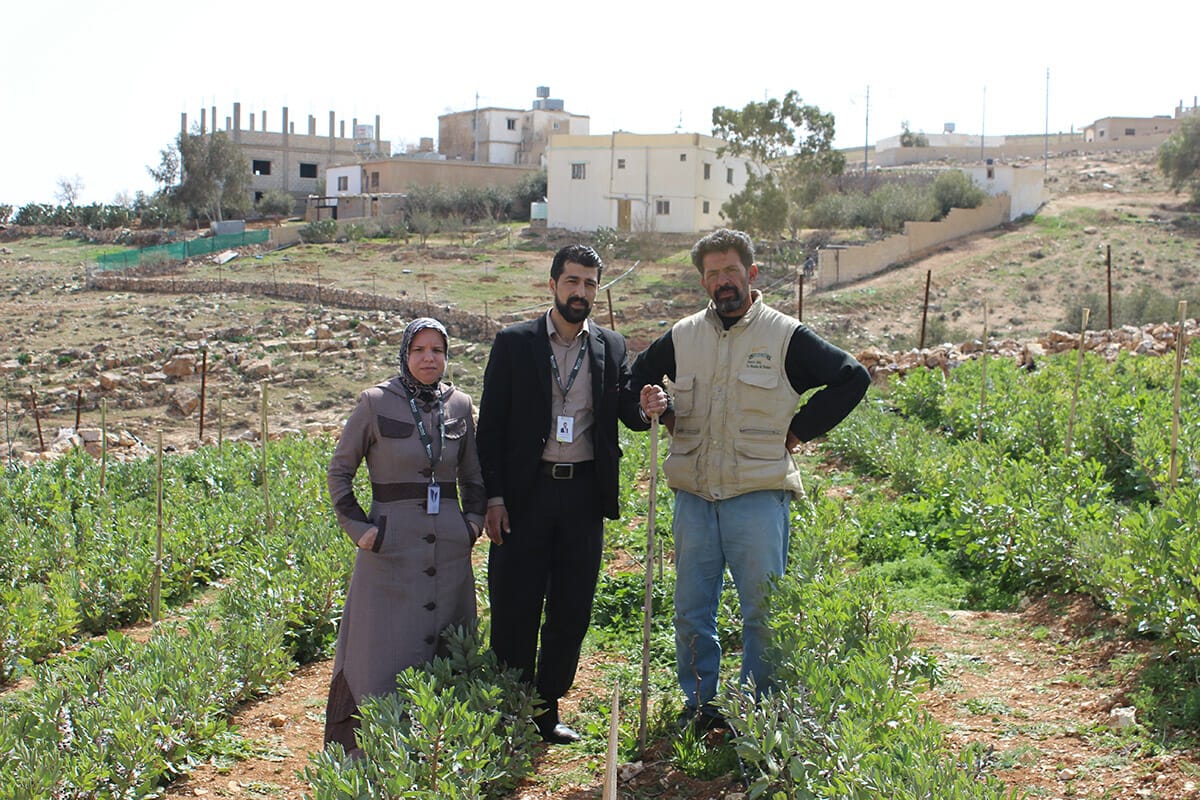 Vitas' team aspires to grow assets under its management to $1 billion in the next five to seven years. This will be achieved by focusing on high-growth markets by deepening our presence through exploring new market segments through partnerships, offering a broader range of products and services, leveraging investment in our tech stack, and sticking to our core principle of responsible lending.
Post pandemic, we are witnessing growth in portfolios and higher demand in most of the countries of our operation. Though borrowers remain relatively cautious and are less likely to plan long-term.
2019 Social Impact Report
This report summarizes the results of the fourth bi-annual survey of network institutions, covering the period of FY2019. Surveys were conducted across five institutions in the Global Communities and Vitas network in Iraq, Jordan, Lebanon, Palestine and Romania, with a combined outstanding portfolio of $262,101,101 and 100,717 active clients as of September 30, 2019.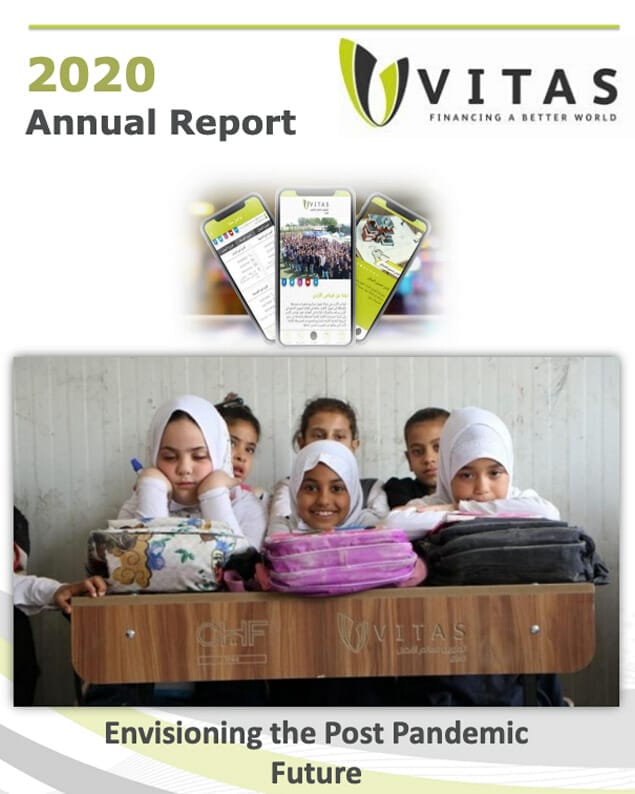 In crisis, Vitas' management teams did not lose sight of strategy and in fact have made extraordinary investments in people, tools, and training that will mark 2020 as the year of transformation. That success in weathering severe shock is no special recipe but an ability over the years to become seasoned crisis managers and to take the long view. The future is in technological innovation rooted in a deep understanding of the customer, those entrepreneurs, and small businesses who deserve financing to meet their true potential. In the midst of massive global change, transformational change becomes easier when you have solidarity in purpose. At Vitas, we are financing a better world.
COVID-19 Impact Survey Report
This report summarizes the results of a COVID-19 client survey among Vitas network institutions. Surveys were conducted in May 2020 with clients in Egypt, Iraq, Jordan, Lebanon, Palestine and Romania, where Vitas served a combined 90,298 active clients and an outstanding portfolio of $231 million as of March 30, 2020.
Vitas' business model and reason for being was born in times of crisis. Working in some of the most difficult and volatile markets in the world, Vitas management teams have quickly adapted their crisis management and business continuity plans - in times of war and economic crises - for the current pandemic. This means we can pivot to remote work, update phone trees, contact customers, and tap the three- to six-months liquidity on hand to pay salaries. The safety of our people and outreach to our customers takes precedent. We are proud that our insurance partners have stepped up to ensure we cover COVID-19 testing wherever local governments fail to do so. Where insurance coverage is not available, we are covering those expenses ourselves. It is the right thing to do.
In 2018, Vitas Group advanced three key strategic initiatives that will continue to define our work in the years to come. We are focused on being - Inclusive, Responsive and Connected – for the benefit of our customers, our managers, and our strategic partners.
2017 Social Performance Report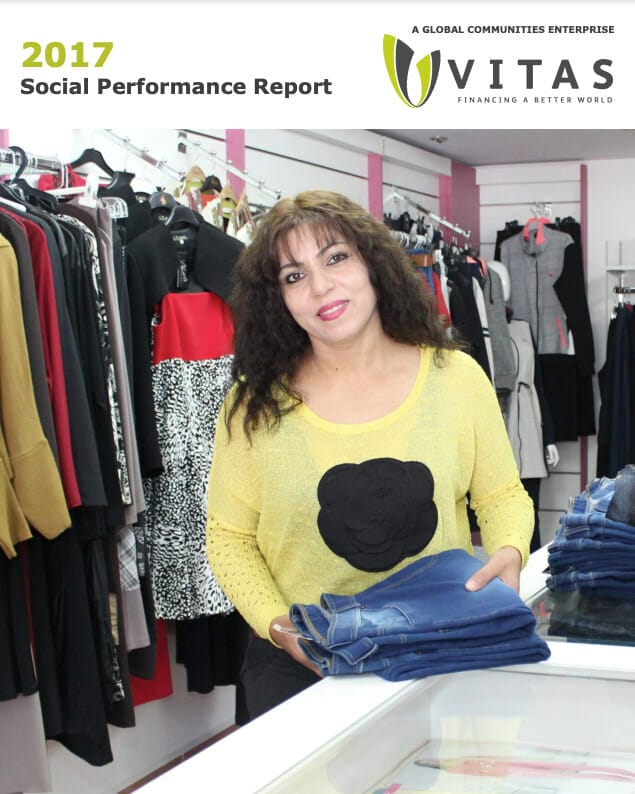 The report summarizes the results of the third bi-annual survey of network institutions, covering the period of FY2017.
The year 2017 marked several exciting developments for Vitas Group. We signed shareholders agreements and closed investments with new commercial partners in Lebanon and Egypt. Saradar Bank purchased a 49 percent stake in Vitas Lebanon and committed $20 million in new debt financing to expand our footprint across the country.
In this year's annual report you will find growing evidence that affirms our commitment to our customers and our employees across the Vitas family of companies. We continue to be leaders in financial inclusion in the Middle East region, which has played host to a myriad of challenges that long predate the current crisis in Syria.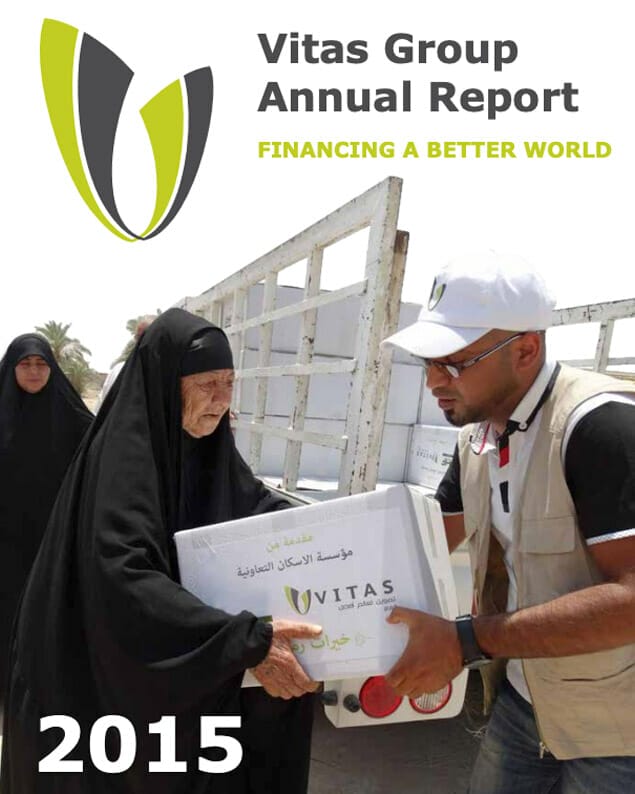 This annual report shares the stories of resilience and hope that keep us on the ground in places that others won't go. The stories that you didn't hear on the news in 2015. The stories of how we are financing a better world.
The year 2014 brought tremendous hardship for many of the communities in which we work. In the Middle East we saw frightening developments of conflict, brutality, and social unrest. However, looking beyond the headlines, we also witnessed resilience – people collaborating, innovating, and rebuilding their communities. This annual report highlights how Vitas has been a part of that, and how our promise to Finance a Better World has inspired our work in the past year.